Kenneth Flatley is the headmaster at St Hearts.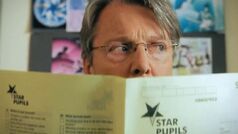 Biography
Edit
He is easy going but has a determined streak and an obsession with getting things right. He really believes in St Hearts and it's pupils. He has great patience and works long hours without complaining. Though there has been no improvements in school results, morale or truancy levels, Mr Flatley's optimism remains un - dented. He gets on well with Frank, shown in The Hive as he calls Frank when he is trapped.
Mr Flatley has absolutely no idea of any of the MI9 activities happening at the school. Ironically, he is often right in the middle of an MI9 situation.